---
Luthiers
About half of our students come on the course with the intention of pursuing the work professionally in some form or another. Some have gone on to work with other makers such as Patrick James Eggle, Parker Guitars and Fender, or have gone into repair work with shops. Others have set up on their own, building and repairing instruments, and a couple of these are listed below with more to follow shortly.
Past students
Past students
Stearn Guitars - Jesse Stearn
Handmade custom acoustic guitars.
Address:
2325 East Bonair Street
Holladay
Utah 84117
United States
Telephone: +1 801.274.2359
Website:stearnguitars.com
Email:info@stearnguitars.com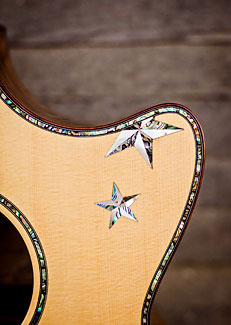 Sam McClaren Guitars - Sam McClaren
Classical and steel string guitars.
Telephone:07540 637515
Website: mcclarenguitars.co.uk
Email:mcclarenguitars@gmail.com